We Repair and Renovate Houses Professionally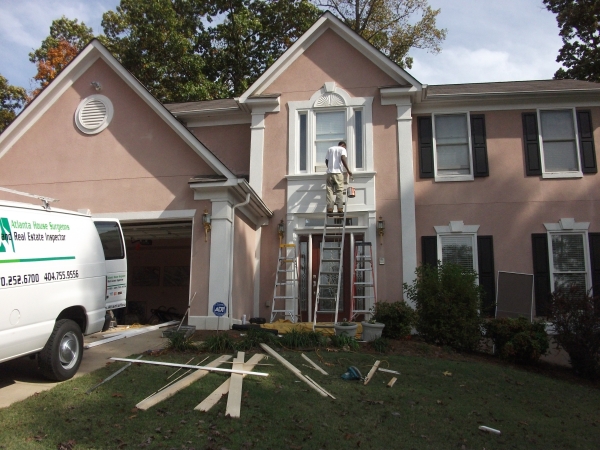 We can make repairs and improvements when you need them done. We try to complete projects on time so that you can get back to what you were doing.
HOME SERVICES: We do all types of repair services. We fix loose or damaged steps and stairs, repair and replace loose roof shingles, repair roof leaks, repair and replace gutters, wood fence repair and replacement. This includes all odd jobs!
CARPENTRY: Carpentry is a part of almost all buildings and structures. Atlanta House Surgeons' basic skills are certified carpentry, building construction and home repairs. We repair all types of wood siding and trim. We replace and repair soffit and fascia boards that have received water damage. We are well trained and very familiar with the tools of the trade. We do all types of carpenter work including screened porches, porch railing, custom molding and trims around entries of porches and portico. If you have a screened porch with damaged lattice or screens we can remove and replace them to look like new. We professionally repair roofs, walls and building framing that have damage from fire, storm or water. We also do porch floor repair and wood deck repair and replacement.
CONCRETE WORK: We repair and replace all types of concrete driveway and walkway surfaces in Atlanta. If you have broken, settling or heaving areas in your driveway, sidewalk or walkway we can machine cut and replace them. We also repair and replace concerete floors on the interior and replace or repatio concrete patios.
ADDITIONS: If you need an additional bedroom or bath added to your home in Atlanta or you want to add a sunroom or a screened porch to your house, we do professional work. We turn attics into living spaces and enclose carports and porches also. We are licensed to do any type of home improvements and remodeling in Atlanta.
We also provide home improvements, house repairs and remodeling for the western part of Georgia in Newnan, fairburn, Carrollton, Douglasville and Palmetto. We do door repair, window repair, window glass, floor repair and ceiling repairs in these cities. If you need any home repairs let Atlanta House Surgeons Know.
Please contact Paris Pressley
email info@atlantahousesurgeons.com
ATLANTA HOUSE SURGEONS
Home Improvement Service in Atlanta | Home Improvement Contractor in Atlanta | Home Improvement Company in Atlanta
---
| Return Home | Services | Doors | Windows | Floors | Sheetrock | Siding | Sitemap | FAQ | Contact Us |