A Complete Floor Service Contractor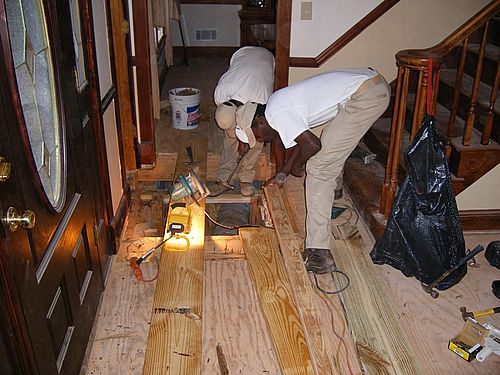 Repair/Replace Floor Framing
Repair and Replace Floor Damage
Floor leveling and Jacking Up Floors
Repair and Replace Wood Seals and Beams
Repair and Replace Floor Tile and Floor Vinyl
We repair and replace rotted and termite damaged floors in Atlanta. If you have a bath floor or kitchen floor that has water damage we can replace any type of water damaged flooring. We are skilled carpenters in floor framing and house framing. We know all structural building requirements and all materials for repairing and replacing floors.
Sometimes floor vinyl can get damaged from normal use. Burns and cuts in sheet vinyl are very common repair requests. Torn or broken vinyl tile squares are another common issue. If you have a hole or burn in your floor vinyl it may can be patched if you want to save it. If you have cracked ceramic floor tile that needs to be replaced we replace one or two tiles or several tiles. If you want to save a floor we are the ones to call.
If your floor is sagging, weak or not level we can underpin a floor or add members to stiffen a floor. If you have a sinking foundation or a column that is to short causing a floor to dip we can jack up a floor or correct it. We have all the tools and equipment to repair floors professionally.
Sometimes wood floors and floor systems can have problems or get damage. If you have rotted beams or seals, we have tools and equipment to lift up the house, cut out and remove damaged wood beams, seals and floor components, then let the house back down on new materials. Sometimes a floor under a entry door can get damaged from water entering from the exterior. We see this at several repair requests. Either water from an overflowing gutter or no cover over the entry door causes water intrusion. It gets under the door threshold if not caulked properly and slowly saturates the wood components. If there are damaged or broken floor joist in your floor we know how to repair and replace them. We repair all types of floor damage in Atlanta.
Fixing Kitchen Floors is One of Our Specialties
If you have a water damaged floor below your kitchen sink it can be repaired. We can replace a cabinet floor that has water intrusion or repair a floor under a kitchen cabinet. We cut out concrete floors to make pipe repairs. Floor vinyl in kitchens has been around a long time and can be found in many homes. We have been installing floor vinyl for many years and can do a good job. We install sheet vinyl and vinyl floor tiles professionally. If the floor is ceramic tile we can repair or replace it also. If kitchen cabinets have to be removed to repair a floor we know how to take out and put back base cabinets and counter tops. We know how to disconnect and reconnect sinks. If the dishwasher has to be removed to repair the floor, that's no problem. We know all about kitchens and how to fix floors and we know the job well. We do all types of floor repair in Atlanta.
We Repair and Replace Bath floors Expertly
Water leaks in bathrooms are common. If not repaired, water leaks can cause major damage to bath floors. Leaks at toilets and below sinks are typical. Common areas where leaks are found are at supply lines, cut-offs, faucet bodies, drains and toilets where they connect to drains. If you have a bath floor with tile or floor vinyl that has rotted sub-flooring or damaged floor joists we can fix that. We can replace part of a bathroom floor or all of a floor and properly re-tile or lay new floor covering. We can tear out old floor tile and install a new floor tile to get a new look. We install large tiles and small tiles. We remove loose grout and re-grout floor tile. We also install sealers on natural stone tiles in baths and showers. If you need grout sealing we professionally seal grout used between all types of natural stone and man made tiles.
Please contact Paris Pressley

email info@atlantahousesurgeons.com

ATLANTA HOUSE SURGEONS
ALL RESIDENTIAL FLOOR REPAIRS
Floor repair in Atlanta | Floor leveling | Floor under-pinning | Bathroom floor repair in Atlanta | Kitchen floor repair in Atlanta | Bathroom floor replaced | Kitchen floor replaced
---
| Return Home | Services | Doors | Windows | Floors | Sheetrock | Siding | Sitemap | FAQ | Contact Us |