All Residential Door Installation & Repair Service
When it comes to installing or replacing doors in Atlanta, how they are installed or replaced makes all the difference. We properly install doors so that they can last a long time. When replacing a complete entry door unit or system, we fasten and secure the door frame to the house properly so that it will stay in place and not easily fail.
If you have us to replace your door we take care of everything from start to finish. Our price covers everything including door delivery and trash removal. Even if you have already selected a door and want us to pick it up and install it for you, we can do that too.
We remove and install entry doors, patio doors, sliding glass doors and French doors in Atlanta very professionally. The average time it takes to replace a entry door unit is about 4 to 5 hours from start to finish. We install burglar, security and storm doors as well.
Door Frame Repair and Door Molding Replaced
If you have a entry door that is in good shape but the door frame is split, broken or damaged we can do a good job repairing a door frame. If you have a nice entry door that has water damage to the frame, trim or molding we can do a good job repairing it too. We can cut out and replace any part of a door frame, trim or molding. We also make sure entry doors have a air tight seal to prevent energy loss. If you have damaged door weather strips or weather strips missing they can be replaced. We plumb and level our doors so that they will open and close properly. We also make sure deadbolt locks strike without restrictions. It is important for door locks to operate easily.
Custom Wood Door Repair and Refinishing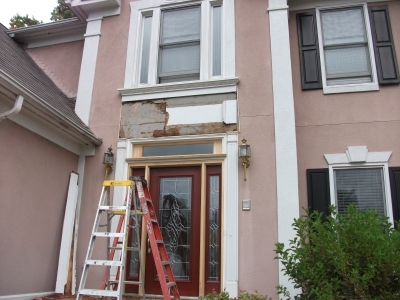 We repair, stain and re-finish solid and custom wood entry doors. If your wood entry door has weathered orthe finish is worn we can refinish it. If you have a solid wood door or antique door that needs to be re-hung, rubbing the frame, sticking, rubbing each other or dragging, we can fix that. If these doors have custom locks that need adjusting let us know. We know a lot about custom and antique wood doors.
In many cases, wood doors get out of plumb, swell or get out-of-square and become hard to close, open and lock. All of these conditions usually can be corrected professionally. We have the tools and equipment to repair any wood entry door.
The exterior and finish of a wood door can receive damage from UV waves, dampness and heat. These are common conditions in the south. We know how to professionally stain and re-finish wood entry doors that have weathered or the finish is worn. We can strip, sand and refinish wood doors to have a new finish. We use the best stains, sealers and finishers for wood doors.
Need Fast Door Repair? We Can Be Reached In Several Ways!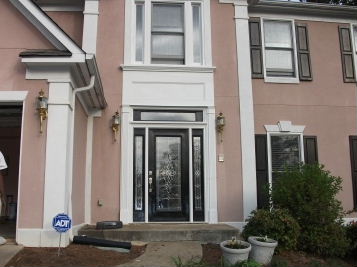 If you need a door repaired from water damage, door refinished, door installed, door replacement or door frame repair we can do a professional job. Feel free to contact us at Email to Atlanta House Surgeons

Door Replacement Atlanta | Door Frame Repair Atlanta | Door Repair Atlanta | Door Installed Atlanta





---
| Return Home | Services | Doors | Windows | Floors | Sheetrock | Siding | Sitemap | FAQ | Contact Us |